The Snow Goose Gallery
Located in the heart of Historic Bethlehem, PA, The Snow Goose Gallery features original works and limited edition prints by some of the world's finest artists. The gallery also specializes in creative custom framing, and boasts Bethlehem's only Certified Picture Framer.
Welcome to our website!
Celebrating Our 27th Year!
****************************************************************************************************
THE ART OF THE MINIATURE XXVII
The Twenty- Seventh Invitational Exhibition
of Fine Art Miniatures from Around the World.
Work is still available for a limited time!
click here for more information!
click here to see the show!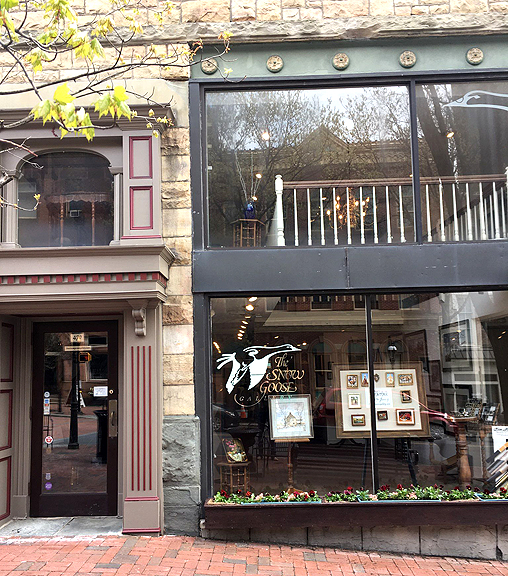 G A L L E R Y A R T I S T S
Paul Eaton, MAA, VPRMS
miniature bronze/ sterling silver sculptures
click here

Judy Lalingo, MAA, SAA
oils/ acrylics
click here

Chuck Zovko
p h o t o g r a p h s
click here


Ray Hendershot,AWS, NWS
w a t e r c o l o r s / a c r y l i c s
click here
Richard William Haynes, MAA, AWS
watercolors, acrylics
click here
Ben Marcune
o i l s
click here

Thomas Arvid
"America's Preeminent Painter of Wine"
click here

Alexander Volkov
oils and limited edition giclees on canvas
click here

Mary Serfass, MAA
pen and ink/ mixed media drawings
click here

Linda Rossin, MAA, SAA
oils/ acrylics
click here
Charles Nelson
oils
click here
FINE ART. DISTINCTIVE CUSTOM FRAMING.
CERTIFIED PICTURE FRAMER ON STAFF.
470 Main Street
Bethlehem, Pennsylvania 18018
U.S.A.
Phone: (610) 974-9099
email: info@thesnowgoosegallery.com
GALLERY HOURS:
MONDAY: CLOSED
TUESDAY: 10 - 5
WEDNESDAY: 10 - 5
THURSDAY: 10 - 5
FRIDAY: 10 - 5
SATURDAY: 10 - 5
SUNDAY: 11- 4
To schedule an appointment outside of our normal business hours, please call us.
We'll do our best to accommodate you!

Mastercard, Visa, American Express, Discover
accepted for your convenience.

Gift Certificates Available!
Give the gift of fine art or custom framing for any occasion!
Like us on Facebook!
Follow us on Twitter! http://twitter.com/snowgoosegal.